Open Wastegate vs Recirculated Into Downpipe (Video)
09-13-15, 01:11 PM
Brap Brap, Fap Fap

Open Wastegate vs Recirculated Into Downpipe (Video)
---
I've been tired of waking the dead with my open wastegate and I thought I'd share the results of a few different fixes I tried.

Here's a quick rundown of my setup:
Stockport S5 13BT, 9.7:1 rotors, Atkins seals
AEM V1 Water meth w/ 550cc nozzle
GT4088R, eBay FD manifold, Precision 46mm WG
3" DP, 3" Vibrant Ultra-Quiet Resonator, 3"ID/7"OD Magnflow XL Muffler, Very quiet setup by rotary standards.


Setup #1: 4" of 1.75" tubing staight off the wastegate.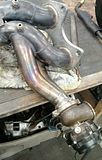 LOUD. Like my ears would ring after a 1-3rd gear pull. It also put a lot of gas fumes into the cabin.
Even with the Precision 46mm WG, I was having boost creep issues.
With a 9psi spring and open dump, it would creep to approx 15 psi by redline.

Setup #2: 1.75" glass pack muffler and 2.25" tip.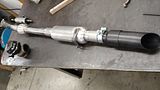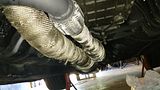 This was an effort to reduce volume, not necessarily impact boost creep.
It did make the exhaust a BIT quieter, but not much.
It mostly knocked out some of the high frequency rasp, but didn't impact volume enough to keep around.
With this setup and 9psi spring, it would creep to 17psi by redline.

Setup #3: 1.75" tubing rerouted back into downpipe.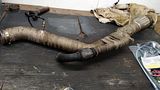 Because I do not have a TIG welder and I can barely MIG weld (see photos for proof lol), I chose not to merge the recirc at a shallow angle like it should. I ended up using a 90* bend that was cut to merge at approx 70-80*. Not ideal.
The difference in noise was HUGE.
I thought something was wrong at first like the turbo wasn't making boost because it was so quiet.
An added bonus was the reduction in boost creep.
With the same 9psi spring, I can now hold 13psi to redline.
I would say that 90% of my boost creep issues stem from the shitty wastegate placement of my ebay manifold, but 13psi is livable with 9.7:1 rotors and 93 octane.
That would be my base pressure without water methanol.

It's pretty hard to say if I lost any power with the recirc'd WG.
It now hits less peak boost on just spring, so that in itself is worth some power. Nothing the boost controller can't fix.
Being able to drive the car without feeling like a felon is worth a few hp, so I am happy.

Here is a video of Setup #1 vs Setup #3.
I never recorded Setup #2 because I wasn't really happy with the results and removed it after only a couple days.
It also had ground clearance issues that made leaving/returning my house a pain.
09-15-15, 01:01 PM
Brap Brap, Fap Fap

That's definitely more elegant than my setup, but unfortunately my wastegate is very close to the downpipe. I may end up redoing my recirc because the ground clearance isn't great. My driveway is very steep and I've scraped it more than a couple times this week. May be easier just to raise the car lol.
09-15-15, 07:08 PM
Rotary Enthusiast
Join Date: Apr 2008
Location: NZ
Posts: 1,092
Likes: 0
Received 0 Likes on 0 Posts
External wastegates need to be plumbed back into the exhaust to be road legal down here.
Here's my setup on FD with twin gates plumbed back

IMO its a bit of a work of art. FD is RHD also..so also have the steering column to contend with.
Before it was welded up;
perfect fit, and check out them welds
---
Last edited by 96fd3s; 09-15-15 at

07:10 PM

.
09-20-15, 12:43 PM
Mr.Epic


I'm running a Full Race Manifold with dual 44mm MVR's dumping to the atmosphere. The sound is ORGASMIC.

I may go the recirculated route one of these days when I turn into an old man.
09-20-15, 01:03 PM
Rotary Enthusiast

Join Date: Apr 2002
Location: Colorado Springs, CO
Posts: 1,168
Likes: 0
Try going up a 8% grade next to a mountain where everything is echoing off each other while you are on the boost for a couple of minutes.......I don't mind the open dump for the here and there full throttle. if you go ***** out on a canyon road it gets damn annoying.
09-21-15, 12:21 PM
Brap Brap, Fap Fap

---
Last edited by Shainiac; 09-21-15 at

12:58 PM

.
09-21-15, 04:56 PM
Brap Brap, Fap Fap

Thread
Thread Starter
Forum
Replies
Last Post
1st Generation Specific (1979-1985)
New Member RX-7 Technical