Safety Harness mounting - 1st gen
06-02-03, 06:38 PM
Full Member
Join Date: Jun 2002
Location: Hattiesburg, MS
Posts: 76
Likes: 0
Received 0 Likes on 0 Posts
Safety Harness mounting - 1st gen
---
I've looked at the different brands of harnesses, and can't really find where they would mount in my car (83 gs). Do any of you guys run a harness in your first gen (without a rollcage), and where did you mount it?
06-07-03, 06:54 AM
Rotary Enthusiast
Join Date: Mar 2002
Location: California
Posts: 819
Likes: 0
Received 0 Likes on 0 Posts
I got a set of the Sparco Clubman belts, which are very long belts, and bolted the sides to the OEM seat belt location. The shoulder belts I mounted to the factor hole (its rubber plugged) right of front of the rear bumper access plate at the rear of the car. Thru in some large washer and cranked it down.

I would not race with out a roll bar, but fine for autox.

I seen others do it, and mine pass tech to.


John
06-28-05, 10:51 PM
I'm looking to get a seat and harness for my 1G for auto-x and street use. The seat I'm looking at is a Summit Racing bucket, nothing too fancy
http://store.summitracing.com/defaul...=egnsearch.asp
To go with it I'm debating over either a 4-point Simpson or a 3-point Schroth.
Here's the Simpson, which I like because it has an anti-submarine belt, though it doesn't have a retractor
http://store.summitracing.com/defaul...=egnsearch.asp
The Schroth has a retractor, but I don't like the fact that it doesn't have an AS-belt.
What do you guys think?
As for mounting, this is about the only thing I could think of without a roll cage: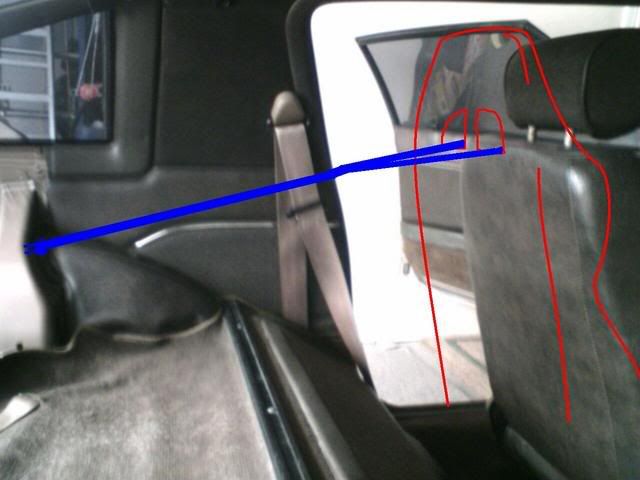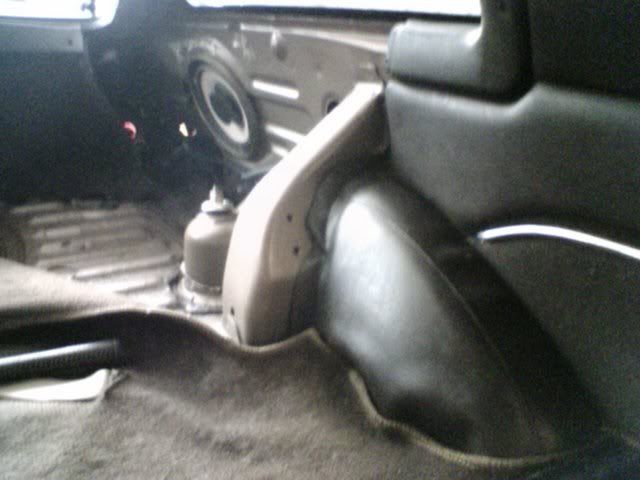 The top one of those two holes is about the highest point that I can find to mount the shoulder belt.
07-04-05, 12:56 PM
Hello-
I have a 1G IT7 car that I ended up making a bucket for my seat to sit in that attaches to my cage and then my belts are tied to that bucket. SCCA frowns on having belts set up like you have them pictured above- The more direct you can get them to a mounting point the better. I also have an ITA car that does not have ANY mounting points for belts and what I ended up doing was taking the belts down to the floor and putting a steel plate on the top of the floor pan and then on the bottom with an I bolt to attach the belt to sandwinching it all together... SCCA has done the inspection on the car every year and has not said anything about them. I do belive that the plates have to be a certain size...maybe check the GCR.
Does that make any sense? I can take some pictures if you like...
[email protected]
07-08-05, 01:11 PM
Full Member
Join Date: Apr 2004
Location: Phoenix, AZ
Posts: 131
Likes: 0
07-09-05, 09:53 AM
Full Member
Join Date: Apr 2004
Location: Phoenix, AZ
Posts: 131
Likes: 0
It's really not a skinny as it looks, but their instructions say that it should only by used as a guide for road racing, but for autox you can mount your harnesses directly to the bar. My SE is a dedicated autox vehicle and is not used on the street. The installation is straight forward and the bar can be removed for street use. I would suspect that in your situation it would be used as a guide only. However, I wouldn't recommend it for the street! The last thing you want to do is roll your car and be strapped into the seat! You should really be considering a role bar if you're going to be driving this car on the street and using any type of harness belt. The ones from IO/ Port and Cp Racing are fairly inexpensive and can be bolted if you like.
Thread
Thread Starter
Forum
Replies
Last Post
Adaptronic Engine Mgmt - AUS
Website-related Comments, Suggestions and Issues
New Member RX-7 Technical