Hood Pins
09-18-06, 12:46 PM
male stripper
Join Date: Oct 2001
Location: St Petersburg, FL
Posts: 3,131
Likes: 0
Hood Pins
---
what are you guys using for hood pins? the set from summit i have rusted after one week after being outside. not only do they look like ****, but it makes them harder to get off and i now have some decent scratches on the hood. so i'm looking to replace them with something of far better quality.
09-18-06, 01:31 PM
http://www.pegasusautoracing.com/pro...asp?RecId=4587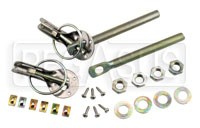 The captured pins are the only way to go. Next car I build will use them for sure. If you don't want to buy a whole new set get some of the clevice type pins like are shown in the captured set. They're much easier to work with than the hair-pin type that are shown below.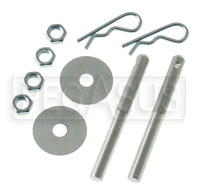 ---
Last edited by C. Ludwig; 09-18-06 at

01:33 PM

.
09-19-06, 11:06 AM
Racing is life!
Join Date: Jan 2003
Location: Grapevine, TX
Posts: 2,174
Likes: 0
Received 0 Likes on 0 Posts
Originally Posted by DarkKnightFC
Aerocatch.com
They are nice but at $86 for 2, ouch! My fiberglass hood would require 4. Dzus fasteners are areo and cheap by comparison.
I have 4 of the clevis style on the shelf, I'm still trying to decide to go dzus or use them on my current build.
09-19-06, 07:56 PM
Panda Bear
Join Date: Nov 2001
Location: Lititz, PA
Posts: 1,724
Likes: 0
Received 0 Likes on 0 Posts
I have the aero installed on my hood, very nice peices, also helps so you dont forget to latch the hood pins. Ive seen it before, smashed windsheild arent any good
09-19-06, 08:07 PM
Junior Member

Join Date: Nov 2004
Location: AZ
Posts: 11
Likes: 0
Received 0 Likes on 0 Posts
is there any way to lock these things? my hood weighs next to nothing and requires 4 pins to hold it on. im worried about someone stealing the hood and/or stuff from the engine bay.
Thread
Thread Starter
Forum
Replies
Last Post
1st Generation Specific (1979-1985)
1st Generation Specific (1979-1985)
3rd Generation Specific (1993-2002)