Fuel Cell Options
03-28-06, 04:03 PM
Full Member
Join Date: Jun 2002
Location: Seattle, WA
Posts: 236
Likes: 0
Received 0 Likes on 0 Posts

Fuel Cell Options
---
Hey, I'm looking to get a fuel cell for my project and I've been trying to figure out the best type to get. I'm worried about fuel starvation under cornering if I use a drag race style sump cell, but I'm worried about starvation under acceleration with a circle track style cell... Plus I need a tank that has a flush mounted cap and a fuel return line (and hopefully isn't horribly expensive). What's everyone's experience? I need advice...
03-28-06, 04:55 PM
OBEY YOUR MAZDA

Join Date: Oct 2002
Location: Denmark
Posts: 3,059
Likes: 0
Received 0 Likes on 0 Posts
For an additional fee, you can have
FuelSafe
install an intank surge-tank.
They come without return fitting as that is optional also.
Kindda expensive, but real nice quality
03-28-06, 06:34 PM
Injected with a Poison
Join Date: Jul 2003
Location: Miami, FL
Posts: 795
Likes: 0
Received 0 Likes on 0 Posts
i bought a Fuel Safe Cell with dual -6 pick ups, one on each side for road racing with one vent and a bladder. paid about 600.00. Remember that when it comes to fuel safety you dont want to be cutting costs here. a fuel burst or rupture in Novice Racing is probably the worst senario one can think of being in where after you think it would have been woth the extra 200.00
here is the one i got, 22 gallons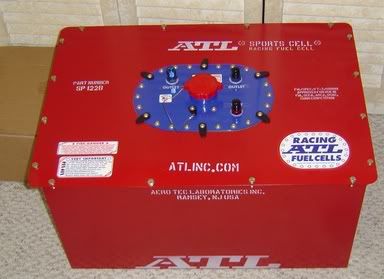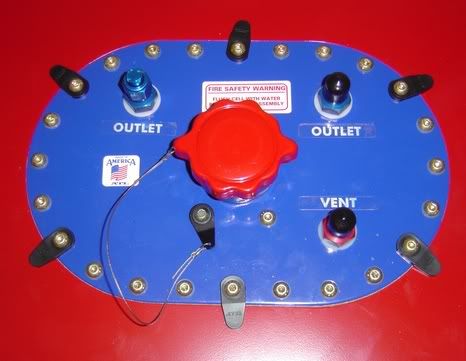 03-29-06, 12:06 PM
Couple things to keep in mind. In regard to fuel pickup, go ahead and setup the cell with Fuel Safe's in-tank surge tank. It's a plastic cube that has one-way inlets on three sides. The pickup goes inside the surge tank. Fuel flows in but can't flow out. The surge tank gets placed rear/center of the cell. Will work for either drag racing or road racing and will suck every last drop of fuel from the cell. Believe me, I know. This is a poor picture but gives you an idea of what you're looking for.
On fuel cell safety. Mounting is critical. A poorly installed fuel cell is more dangerous than any stock fuel tank. Design and install the system will utmost care.
Thread
Thread Starter
Forum
Replies
Last Post
2nd Generation Specific (1986-1992)
Adaptronic Engine Mgmt - AUS