Custom ducting?
08-04-12, 08:15 AM
Full Member

Join Date: Mar 2002
Location: NC
Posts: 69
Likes: 0
Received 0 Likes on 0 Posts
Custom ducting?
---
What do you guys use to make your custom ducting for oil coolers and radiators? It seems like thin-gauge aluminum is overly expensive and likely to slice my fingers off. I've been looking at plastic sheets on mcmaster and even amazon, but I'm not sure what kind is best to use for folding, fastening, etc.

Also, any pics?
08-04-12, 10:30 AM
08-05-12, 09:32 PM
Rotary Freak
Join Date: Jan 2003
Location: Gresham, OR
Posts: 2,024
Likes: 0
Received 0 Likes on 0 Posts
i made my radiator duct out of Dibond. well, dibond is a brand name, mine was something else, but yah. Aluminum/hdpe sandwich composite. lighter that aluminum for a given stiffness. its very easy to cut, and somewhat bendable. the outside sheet of Al will tear in a press break (the 45* kink pictured below), but you can bend it with a pretty small radius.
its ~$70 for a 4x8 sheet from a sign shop.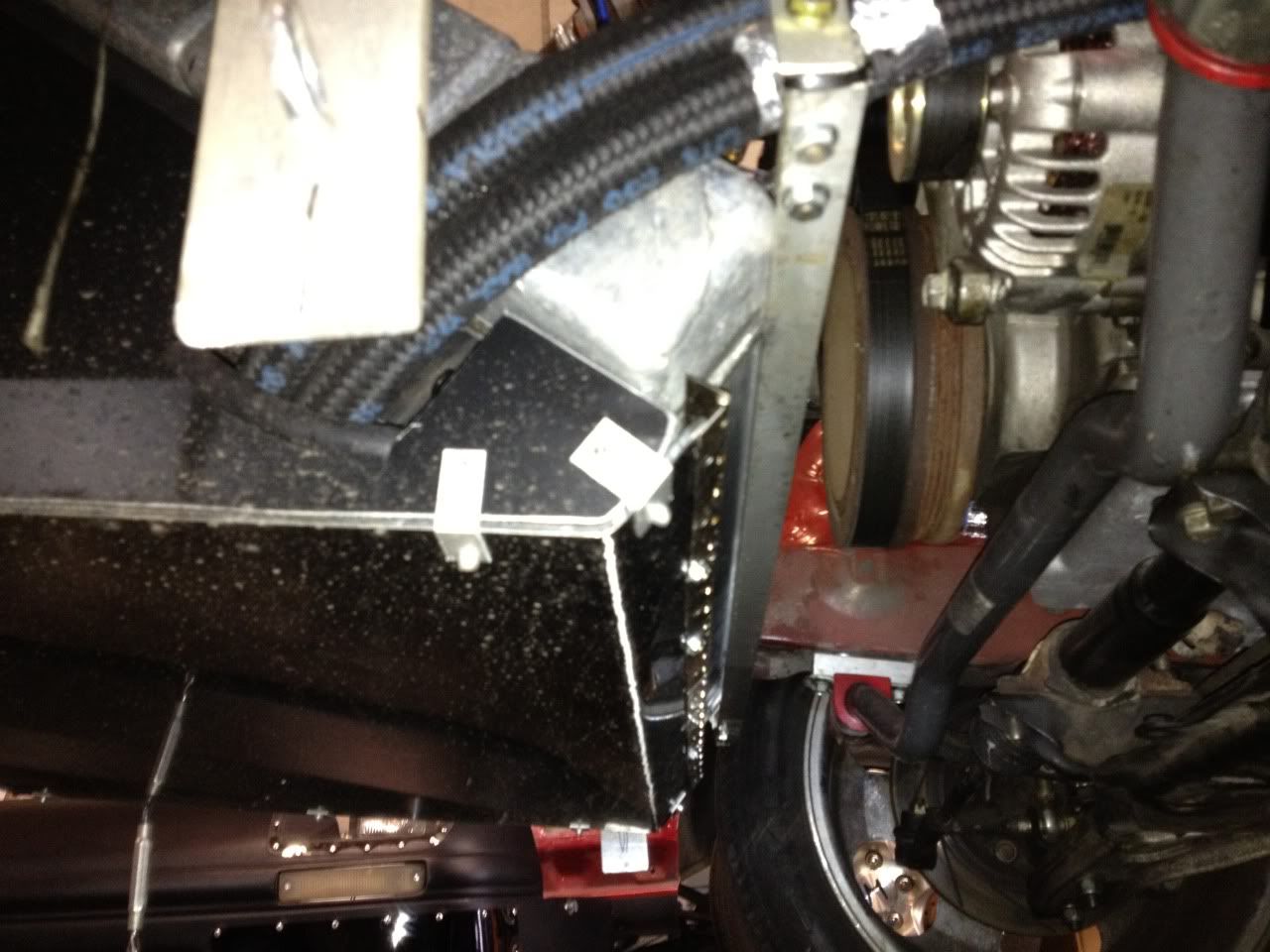 08-06-12, 12:18 AM
Canadian Boost

Join Date: Nov 2005
Location: Ottawa, Canada
Posts: 868
Likes: 0
Received 0 Likes on 0 Posts
Rad & IC Ducting
---
I picked up some aluminum sheet .32 gauge. Bought a small metal break 2ft long and did templates from cardboard first. My oil coolers sit tight to my bumper so none needed there. It was very easy to bend up the peices. I used rivets to make it all one peice. I also used some aluminum duct tape to seal it all.
08-08-12, 07:43 AM
SCCAEP

Join Date: Dec 2006
Location: Dallas
Posts: 1,080
Likes: 0
Received 0 Likes on 0 Posts
Thin gauge aluminum is cheap, less than $100 for a 4x8 or so. Harbor Freight (I hate their tools) has a cheap 14ga electric shear that makes cutting easier. You can also get a cheap press brake there as well. If you have a local circle track fab shop take the car there and let them do it. Those guys bend up aluminum bodies all day and can do a much better job and they are usually pretty reasonable on costs. I did the ducting on my car below.
08-08-12, 07:59 AM
死*神*
Join Date: Apr 2008
Location: Delaware
Posts: 728
Likes: 0
Received 0 Likes on 0 Posts
I used three strips of 1/32" stainless. bended and cut into shapes, then coated with undercoating. came out perfect actually. the bottom strip attaches to the air damn allowing it to be more stable which was an extra bonus.
08-08-12, 10:15 AM
GET OFF MY LAWN

Join Date: Feb 2005
Location: Fla.
Posts: 2,838
Likes: 0
Received 0 Likes on 0 Posts
Aluminum angle for the corners, used a shrinker/stretcher combo to curve the angle. Aluminum sheet to fill in the panels. Ducting curves up from the stock grill opening and expands to the size of the radiator. Two oil coolers stuffed in there with some of their own ducting too.
Thread
Thread Starter
Forum
Replies
Last Post
Group Buy & Product Dev. FD RX-7