Crank trigger wiring
07-26-13, 02:51 PM
Full Member

Crank trigger wiring
---
I am hoping one of you can help with a wiring problem.
The old twin dizzy crapped out on me so I figured I'd try out a crank trigger system I got when I bought a couple of peripheral-port motors a while back.
I am in the process of installing an old "Adrenaline" crank trigger system on my 12a powered sand drag rail. I have been unable to locate any one that has ever heard of them let alone be able to tell me what each of the 7 wires go to.
The yellow and green wires appear to plug into the back of the black coil module.
I am assuming the red is switched power and black is ground.
Any suggestions for the purple, blue and orange wires?
I am again going to guess that two connect to the crank pick up?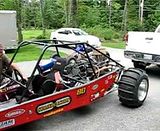 ---
Last edited by chainreaction; 07-26-13 at

02:56 PM

.
07-28-13, 10:02 AM
Full Member

I finally figured it out on my own....
I down loaded several manufacturers wiring diagrams for similar products. Started comparing wiring colors to what I had to work with and noticed that MSD's matched up exactly. So I grabbed the MSD 6-AL I had in my "spare parts" box and right on the bottom it shows using the crank trigger for signal. The plug on the trigger plugged straight into the MSD wiring. I had to "create " the two plugs that hooked to the bottom coil and had to guess which went on each connection. Installed it all and hit the start button, figuring with my luck, I had them reversed. It fired up without turning over 1 revolution!
08-12-13, 05:41 PM
Full Member

Thread
Thread Starter
Forum
Replies
Last Post
Adaptronic Engine Mgmt - AUS
Adaptronic Engine Mgmt - AUS
Adaptronic Engine Mgmt - AUS