Finally an affordable manifold. ( TRACKFORGED )
12-18-12, 08:29 PM
Full Member
Join Date: Aug 2011
Location: Ansonia, CT
Posts: 161
Likes: 0
Received 0 Likes on 0 Posts
The Gato one looks like construction is okay, but I'd question the design aspect, especially that one with the funky WG runner. That twin scroll manifold with the WG's mounted to the collector...maybe one of the Guru's could chime in, but is that the best place to properly control exhaust gases?

The TF one looks pretty but I don't like the fact they used 1.5'' SS. They had to try and open up the port for the turbo flange, but were limited by the size of the piping.

I wonder what these guys do for the flange mounted to the engine also. Stock ports are larger than 1.5''. I opened up the ports on my RB flange to mate nicely with the exhaust ports on the engine and used 2'' 304. Then, I'm only limited by the size of the ports on the turbo itself, the rest I can make without any funky transitions.

No pro here by any means, just observing.
03-16-15, 07:34 AM
Rotary Enthusiast

Just a small update.
Manifold is doing great. it actually holds 6psi on my new street ported motor with a synapse wastegate and a BW S366.
Hind sight is that i should have used the money i saved and bought a decent FMIC instead of the rx7 store/ G(F)reddy kit.
The 3" down pipe was STUPID simple to make. Took 2 45* bends and 2 cuts lol saved a good bit by doing that as well.
For the turbo drain i used a NPT barb fitting and welded a -10 male fitting to the end of the stock drain tube on the front cover.
So buying this manifold saved me a bit more money than just the cost differential of the manifold.
[IMG]
[/IMG]
[IMG]
[/IMG]
[IMG]
[/IMG]
[IMG]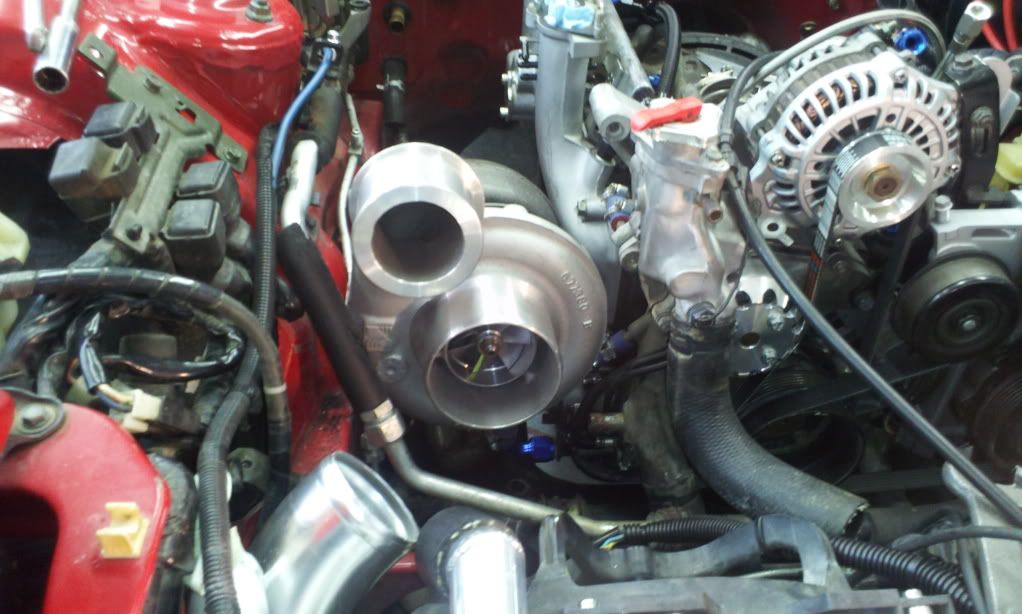 [/IMG]
[IMG]
[/IMG]
[IMG]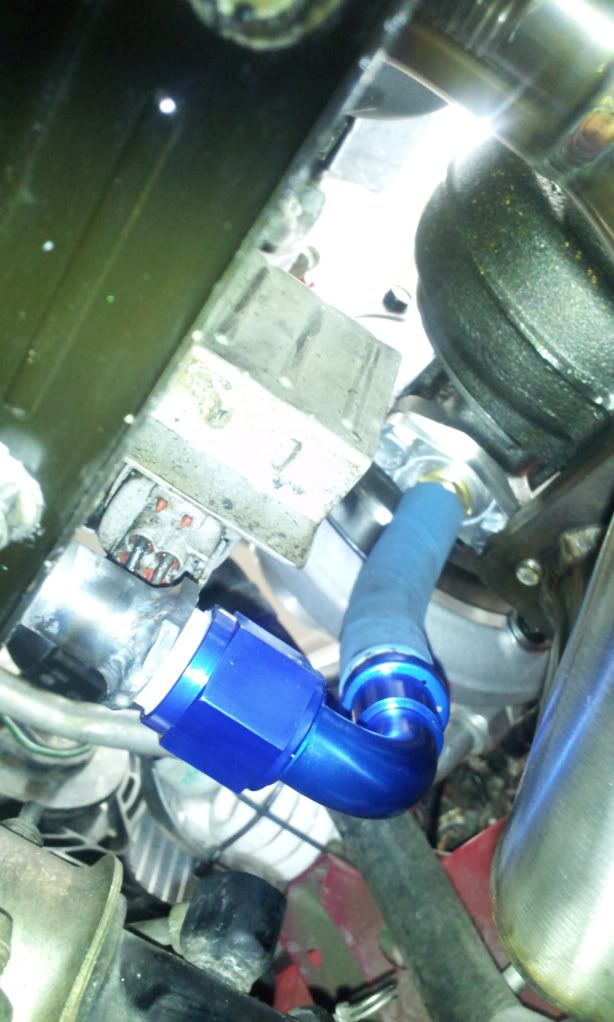 [/IMG]
[IMG]
[/IMG]
03-17-15, 05:04 PM
Original Gangster/Rotary!



Join Date: Mar 2001
Location: FL-->NJ/NYC again!
Posts: 29,999
hard to tell, is the turbine housing almost hitting the LIM?
03-18-15, 04:13 PM
Rotary Enthusiast

I mean its close, but not stupid close.

it could benefit from heat shielding like any other set up, but the 1.10 divided housing from the s400sx FMW fit just as well.

If anything is too close it is the oil drain line.... and its that blue oil resistant tubing too. It probably wont last 10 years... But as a 2nd car, and a few k miles a year it will be just fine.
Ideally hard lines with a corrugated flex section like OEM would be the best long term solution, but i got other things to spend time on now. lol.
03-24-15, 10:46 AM
Junior Member
Join Date: Oct 2011
Location: portland, OR
Posts: 15
Likes: 0
Received 0 Likes on 0 Posts
Looking great! anxious to see how it controls boost and makes power higher up. I know them personally but have DOC race building one at the moment. Nice build.
03-25-15, 02:36 PM
Rotary Enthusiast

Getting it tuned in 2 weeks. It still wont be High boost as i still have the stock map sensor and 550/1600 injectors.
my older dyno thread is here:
https://www.rx7club.com/single-turbo...-dyno-1035771/
the new engine is a street port, so should be nice to see the difference.
Thread
Thread Starter
Forum
Replies
Last Post
New Member RX-7 Technical
2nd Generation Specific (1986-1992)
club
,
divided
,
dpham
,
ebay
,
gato
,
header
,
huntsville
,
jpr
,
manifold
,
performance
,
rx7
,
rx7club
,
t4
,
temps
,
trackforged