Intercooler end-tank design
02-22-04, 01:55 AM
Junior Member
Join Date: Feb 2004
Location: Toronto, ON, Canada
Posts: 43
Likes: 0
Received 0 Likes on 0 Posts
Intercooler end-tank design
---
Hello
I am starting a turbo project .... so i am reading up on turbos and related stuff. NEver had a turbo car before.
The engine is a 1.8L BPT DOHC ( this is the Miata / 323 motor ) .... it is already built for boost ( it has piston oil injectors, forged rods and all the other good stuff. I am about to drop some money into this and i want to make the besto of it, for as cheap as possible.
I bought a intecooler core and i was wondering what is the best desing for the end tanks .....
This one Just looks wrong .... the charge has to make make a 90° turn and than another 90° turn. I think this would cause a pressure drop and the air will lose velocity for sure.
A)
This one has the end tanks at the very top and it is a tall core ... i am guessing the bottom part of the cooler is not as active as the bottom part ( making this cooler the equivalnet of a smaller better designed one )
B)
This one i think is the best for keeping the pressure
C)
This one has even smoother design
D)
E) And than you can also go water cooled if you want
Does water normally just sit in a liquid cooler or do they make the water flow ?
---
Last edited by Black_91_GT; 02-22-04 at

01:58 AM

.
02-22-04, 01:59 AM
Junior Member
Join Date: Feb 2004
Location: Toronto, ON, Canada
Posts: 43
Likes: 0
Received 0 Likes on 0 Posts
Now second section to intercooler desing ....
The inner design of the core.
Cooling vs Flow
A) Small fins, light density
B) Big fins, light density
C) Small fins, high density
D) Big fins, high densety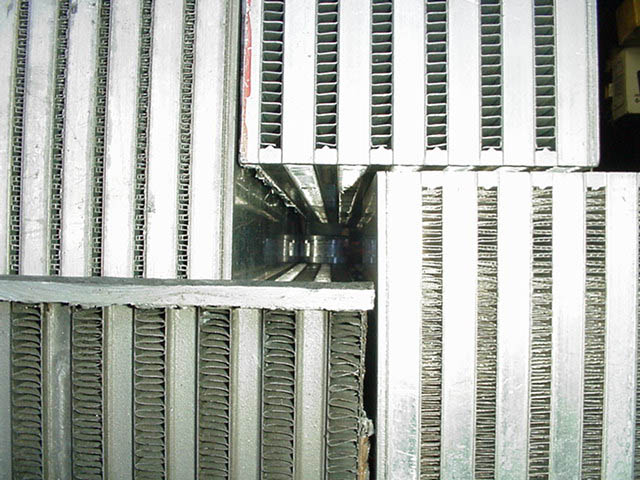 What one is good for what amount of boost ? What else does the core desing affect ? How about size ? Is there any formula or good combination of internal core fins, inlet desgin, size ... etc ?
02-26-04, 07:27 AM
Lives on the Forum
Join Date: Feb 2001
Location: Dallas
Posts: 9,617
Likes: 0
Received 0 Likes on 0 Posts
Black_91_GT, go and read Kevin T. Wyum's posts
in this thread
and you'll have a much better understanding of what is actually happening. Since the air is pressurized it will not act like your intuition tells you.
Thread
Thread Starter
Forum
Replies
Last Post
3rd Generation Specific (1993-2002)
3rd Generation Specific (1993-2002)