Unknown brace/strut
05-02-12, 01:58 AM
FD
Join Date: Apr 2011
Location: Houston
Posts: 60
Thanks: 0
Thanked 0 Times in 0 Posts
Unknown brace/strut
---
Can anyone identify what this is called and maybe where I could get one? what is the purpose of it? Its the cracked brace/strut bar. It makes a loud knock noise every time I takeoff and its really annoying. If y'all could Identify this it would really help thanks.
05-02-12, 03:01 AM
rotary sensei
Join Date: Mar 2001
Location: Virginia
Posts: 2,311
Thanks: 0
Thanked 0 Times in 0 Posts
It sounds like you are talking about your PPF? It's the thick beam that runs from your transmission to the rear differential (hogs head). If that's what you are talking about take it off and get it welded/repaired at a machine shop and save yourself some money.

Not sure if you can get an aftermarket one, maybe someone else can chime in.
05-02-12, 08:59 AM
FD
Join Date: Apr 2011
Location: Houston
Posts: 60
Thanks: 0
Thanked 0 Times in 0 Posts
05-02-12, 10:19 AM
That's just the underbody cross brace, the rear one. They're a dime a dozen used.

The car will drive fine without it, but it's there to add stiffness to the chassis.

Dale
05-02-12, 11:53 AM
There are a bunch of those available from forum members since it gets eliminated with our diff brace. You should inspect your PPF for cracks at both ends, as that is not a piece that typically breaks, it would take a pretty hard hit from the PPF to snap it. That much movement in the drivetrain usually means there is something else broken.
http://banzai-racing.com/store/FD_di...ial_brace.html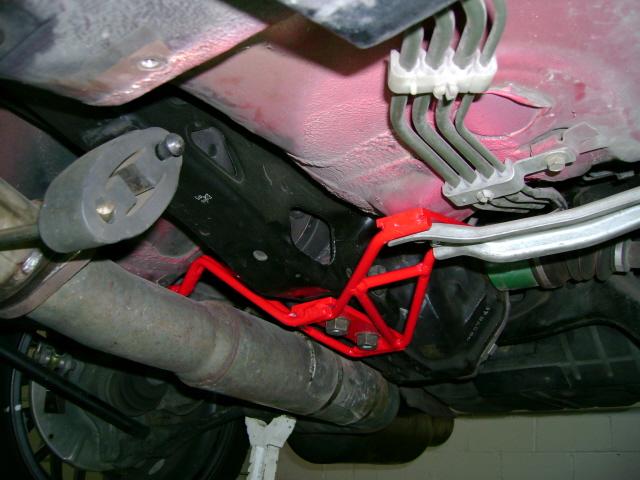 05-02-12, 04:14 PM
I am saying that chances are there is something else broken if your PPF has enough movement to cause the aluminum bracket to snap.

Remove the broken bracket and see if you still have noise when you take off. Do you have a lot of movement at your shifter?
05-03-12, 11:47 AM
05-03-12, 01:43 PM
Administrator

Join Date: Mar 2001
Location: Gulf Coast Flo-Rida
Posts: 29,872
You can lead a horse to water.......
Missed ya at DGRR chuck

Thread
Thread Starter
Forum
Replies
Last Post
3rd Generation RX-7 (1993-2002) Parts
Canadian For Sale/ Wanted/ Classifieds
3rd Generation RX-7 (1993-2002) Parts
NW For Sale/ Wanted/ Classifieds
Posting Rules
You may not post new threads
You may not post replies
You may not post attachments
You may not edit your posts
---
HTML code is Off
---