MSD drirect fir with 2nd gen coil
04-05-10, 09:08 PM
Junior Member
Join Date: Aug 2003
Location: Canada
Posts: 33
Likes: 0
Received 0 Likes on 0 Posts

MSD drirect fir with 2nd gen coil
---
Hello,

I have a 82 RX7 GSL. I have been runing a MSD 6a box direct fire with 2 blaster coils chained together on the leading side. I just Upgraded my 2 blaster coils to a 2nd gen coil. now comeing from the MSD box I have a orange (+) and black (-) wire. Do I just hook directly to the + and - post of the coil and by pass the resistor inside the 2nd gen coil or do I go directly to the negitive side with the black wire and run the Orange wire to the tan wire and through the resistor in the back of the 2nd gen coil.

I have it hooked up running through the resistor on the positive side right now, but I dont really know if that is correct.

any advice would greatly be appreciated.
04-05-10, 11:32 PM
before you take your direct fire with MSD 6AL and 2 blaster coils for leading plugs, hook up the timing light and observe how it flashes.
If you want to use MSD 6AL with a FC leading coil, be sure to disconnect or cut the wires from FC coil to its igniter and connect the purple to + and green to - (verify this, i dont have it memorized). However, dont separate the FC coil from the FC igniter as you need the built-in bracket. once you have it running, connect the timing light and compare the FC leading coil vs 2 blaster leading coils.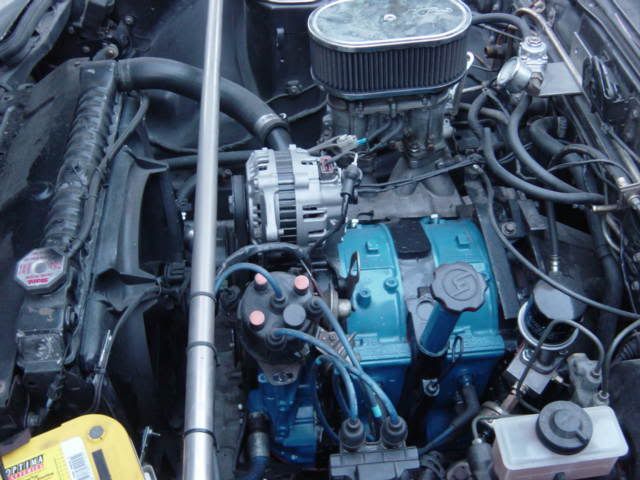 04-06-10, 12:07 AM
Wacky is right. You MUST fully disconnect the 2nd gen coil electrically from its ignitor. Tie them far away from the orange and black wires from the MSD. They carry something like 400 volts.
Let no stock 2nd gen wires near the orange and black wires!!!!
Keep them well away!!!
Do not use the 2nd gen ignitor. Do not use the ballast resistor. As I said before, keep all 2nd gen wires coming up from the aluminum base very far away from any MSD wires. Tie them all together with a zip tie or something and push them down and out of the way.
Yes, hook up the MSD orange and black wires to the terminals on the 2nd gen coil. It is dead-simple for you since you already have a working MSD setup. I believe orange is + and black is -.
Oh, Wacky, the lavender and green wires are the magnetic pickups. It's green to lavender and red to green. Kinda weird but our pickups are designed to output a negative going AC spike and I assume the MSD was set up for a positive one. Whatever, that's how it works on our cars.

04-06-10, 10:22 PM
Junior Member
Join Date: Aug 2003
Location: Canada
Posts: 33
Likes: 0
Received 0 Likes on 0 Posts
I was told that now that Im running the 2nd gen coil, I should adjust my timing.

The timing that everyone I've ever heard says is best is 24 degrees BTDC leading and 16 degrees BTDC trailing.

Is this accurate??

since I did the 2nd gen change I now here a tick tick tick tick. ( very fast ticking) Coming from I think the distributor. I checked the leading and trailng timing and I am right on the mark ( stock marks on the engine)


Does this make any sense to you guys????

Thanks for your response.
04-06-10, 11:44 PM
timing or tuning in general is very broad and tricky. Some recommendation may not work as there are no 2 engines that are alike. Its like having sex, some will give a better head than the other or vice versa.
but do search on Paul Yaw, its a good starting point.
tick tick tick is a common sign of jumping spark. Un-glue the rubber boot (coil or distributor end) from the spark plug wire, this will allow you to shove the plug ends to the coil or distributor and have a good contact.
04-07-10, 03:39 PM
Full Member

Join Date: Sep 2009
Location: Okatie,SC
Posts: 208
Likes: 0
---
Why would you disconnect the MSD Blasters for a stock 2nd gen coil???? The Blasters are putting out way more fire than the stock coil especially with the MSD box.
04-07-10, 06:13 PM
if you're asking me, the answer is nope. I only installed in my son's FB so I can take the blaster coils for my RX-3. He just loves to drive fast and I dotn think he ever noticed the difference LOLLLLLLLLLLLLLLLL.

But on the other hand, based in my experience, the stock FB coils are good enough for a direct fire (MSD or DLIDFIS). So one of these days, I will be converting his FB also for DLIDFIS so I can take the 6AL and use it in my RX-3.
Thread
Thread Starter
Forum
Replies
Last Post