Feedback on Autotech Rotary/Turbo Clinic - Don Charlie
10-20-08, 12:41 AM
wtf rotary wtf
Join Date: Aug 2005
Location: Who knows
Posts: 2,756
Likes: 0
Received 0 Likes on 0 Posts
Feedback on Autotech Rotary/Turbo Clinic - Don Charlie
---
Well since I have some extra time on my hands, I figure I'd start a thread with feedback on the shop doing the rebuilds and work on my RX7's; Turbo Clinic/Autotech Rotary/2rotor.net (all the same person) and give some insight on whats going on at the shop. I haven't received my cars back yet so I will do a MAJOR update with the following once I receive the cars back:
Quality of work
Communication
Value for work done
Recommendations
Timeliness
Cleanliness of work
Reliability
Miscellaneous/Other Comments
Two most important things to me and everyone else are Reliability and Communication, so my next update will be focused on this points.
I know
a lot
of you guys have asked me about the prior work done to my convertible and other RX7s, and asked me where to take your cars. I want to make sure I provide you guys with the best info and feedback on one of the few rotary shops in South Florida; so I will be waiting until I get my cars back to give you all the details.
I actually came across Charlie after winning an ebay auction for a rebuilt J-Spec transmission. The trans was in very good shape, repainted, and I was only charged 200 bucks to install it along with a new clutch and throwout. After I flipped my vert I bought an FC with a blown engine and shipped it out to him shortly after.
What's being done:
1. 1990 FC
Full rebuild. New housings, light weight clearanced rotors, pinned and balanced. 3MM Seals and FD corners and springs. Aggressive street port, painted engine, massive hybrid turbo (was doing a gt35r but ran low on cash). Expecting to bring in mid 300s.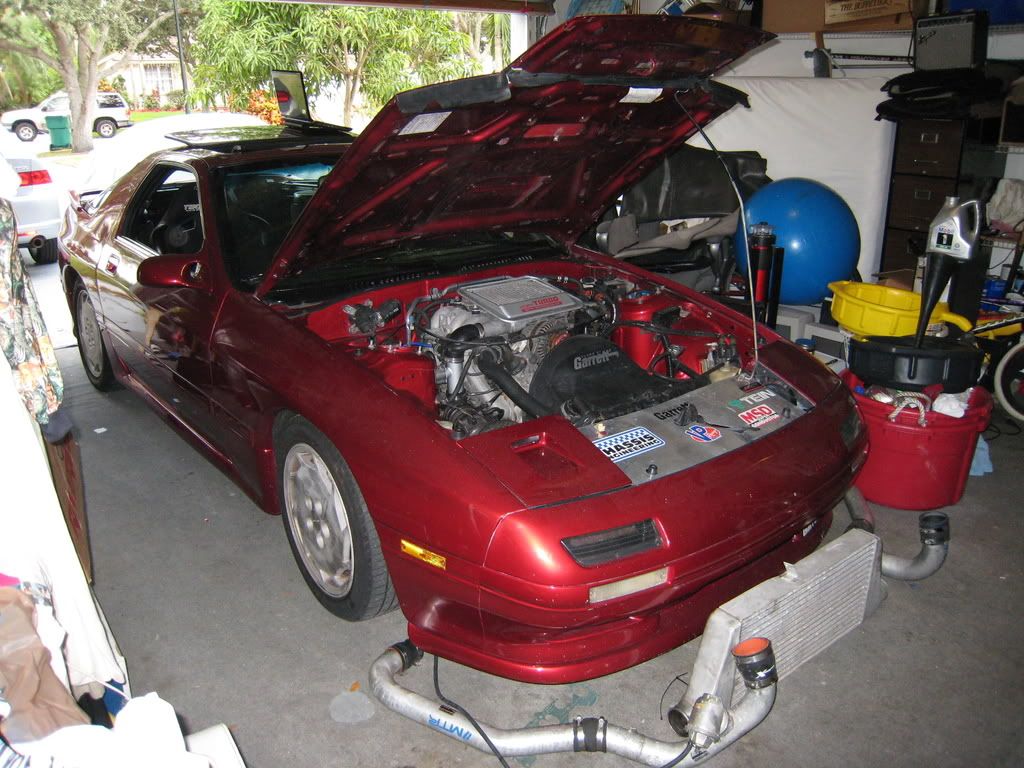 2. 1994 FD
Full rebuild. 3mm seals, aggressive street port, painted engine. Rebuilt Pettit hybrid turbos, replace injector seal, new air flow meter, and pin/balance engine. T51R kit being thrown on after engine is broken in.
I have an MGB GT that I plan on doing a 20B swap on, after both cars are returned I will start a new thread with that as well.
---
Last edited by hurleysurf24; 10-20-08 at

12:46 AM

.
10-20-08, 08:23 PM
wtf rotary wtf
Join Date: Aug 2005
Location: Who knows
Posts: 2,756
Likes: 0
Received 0 Likes on 0 Posts
yea ... thats all going to be part of the review. I dont want to bash the long wait time if the quality is insanely good. I'll update accordingly once I take the cars back.
10-23-08, 04:31 PM
Eats, Sleeps, Dreams Rotary
10-25-08, 12:12 AM
wtf rotary wtf
Join Date: Aug 2005
Location: Who knows
Posts: 2,756
Likes: 0
Received 0 Likes on 0 Posts
Yes there was:
1990 FC - 2-3 weeks (I added some custom stuff to the project so I probably added on another 2-4 weeks of work. So lets say 6 weeks to play it safe).
1994 FD - 3 Weeks
10-25-08, 08:16 AM
Charlie is a nice guy and can talk a good game to get business. But here is my experience..

I took him a Holley carb to get adjusted and tuned for my blowthru turbo and some new fuel lines.
Took him 2 weeks after he said 2 days. Never installed the new lines ONLY adjusted the carb. I was calling and going by the shop constantly to keep reminding him that I needed my car back. Mind you, I live in Broward.......
I pick up the car and it runs really good all the way to the house. I go in grab lunch and chill for a while, then I decide to go for a drive and the car runs like ****.
I call him right away and he said to bring it back when I can. I wait a couple of days, take it back, wait 2 weeks AGAIN and the car still doesn't run right. Charlie blames it on my fuel lines and gas tank. Don't forget , I asked him to install new lines BUT he never did, I had to install them myself.
I buy a new tank, install new lines and take it to Alex Lopez racing for tuning.
Alex found that Charlie installed needles for Alcohol injection and not pump gas so that's why the car was running like ****. Needless to say Alex tuned my car and got me 383HP to the wheels after starting with only 198HP to the wheels.

Again, Charlie is a nice guy but didn't back up what he said he could do for my car.
Lesson learned, I will only take me car to Alex Lopez for me from now.

L8R
05-08-18, 04:39 AM
Can Post Only in New Member Section
Join Date: May 2018
Location: Miami
Posts: 1
Likes: 0
Received 0 Likes on 0 Posts
My experience with Don Charlie
---
Buyer Beware! Purchased a Mazda engine through Charlie, he claimed came clean from Japan. After three months of waiting for him to rebuild and install I take the engine to another mechanic. He never touched it! Even though he claimed he was working on it. The engine looked like it had been pulled from a canal, it was so rusty! I later found out he purchased it from a local junkyard. Had i not taken the engine when I did...he would have installed. The guy is a con artist. Talks the talk but very shady😒
Thread
Thread Starter
Forum
Replies
Last Post