Friday Night Ringer
04-06-05, 05:20 PM
Rotary Enthusiast
Join Date: Sep 2002
Location: Fenton, MI
Posts: 1,284
Likes: 0
Liked 0 Times in 0 Posts
Friday Night Ringer
---
Well, we've got a little surprise in store for all those piston locals who are talking smack about rotary engines...
The Rotary Revolution event has invited someone to stop in and run the track on Friday night. We probably don't need to mention his name, most of you should know him by these pictures.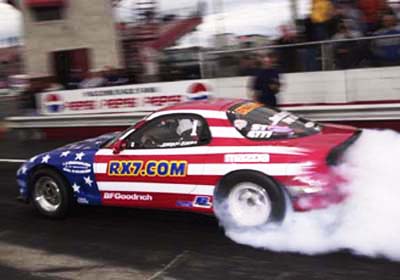 That's right, Ari Yallon from Rotary Performance / RX7.com will be making an appearance on the drag strip during the Rotary Challenge portion of the Rotary Revolution. After that Ari will be packing up his car and heading off for a NOPI event driving through the night to race early Saturday morning.
Thanks Ari for agreeing to stop by!
There's still time to register online for the Rotary Revolution. Register now and save $20 from the at the door price!
http://www.lat-g.com/Revolution/inne...C=Registration
04-06-05, 06:51 PM
Banned. I got OWNED!!!
Join Date: Apr 2005
Location: Belleville, IL
Posts: 5,509
Likes: 0
Liked 0 Times in 0 Posts
04-08-05, 05:06 PM
Banned. I got OWNED!!!
Join Date: Dec 2003
Location: Nebraska
Posts: 76
Likes: 0
Liked 0 Times in 0 Posts
Way cool, lets see what a 1.3L can really do.

Later
Thread
Thread Starter
Forum
Replies
Last Post
New Member RX-7 Technical
Old School and Other Rotary
New Member RX-7 Technical
1st Gen General Discussion