A few of my 2010 AutoX Pics
11-15-10, 01:19 AM
Senior Member
Join Date: Jun 2003
Location: Cincinnati, OH
Posts: 327
Likes: 0
Received 0 Likes on 0 Posts
A few of my 2010 AutoX Pics
---
These are all from different events for the most part, but all in 2010. This year was a lot of fun, hopefully I can step it up a notch next year. Ended up winning Cincy Region XP class again this year. Two years in a row.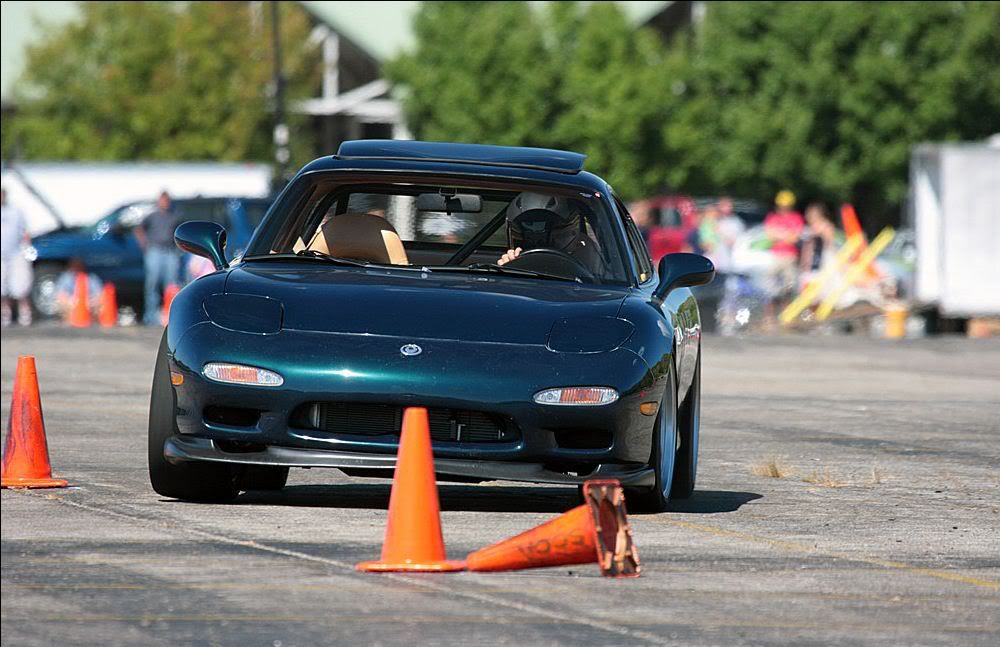 Pretty sure there is some air under the inside front on this one.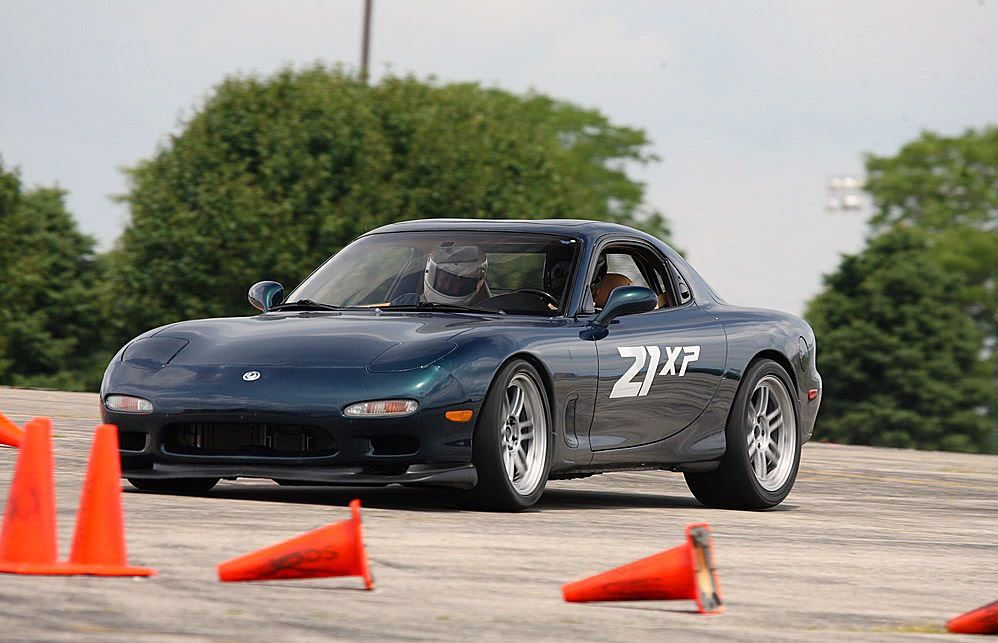 Just missed a pretty extravagant smoky spin, lol.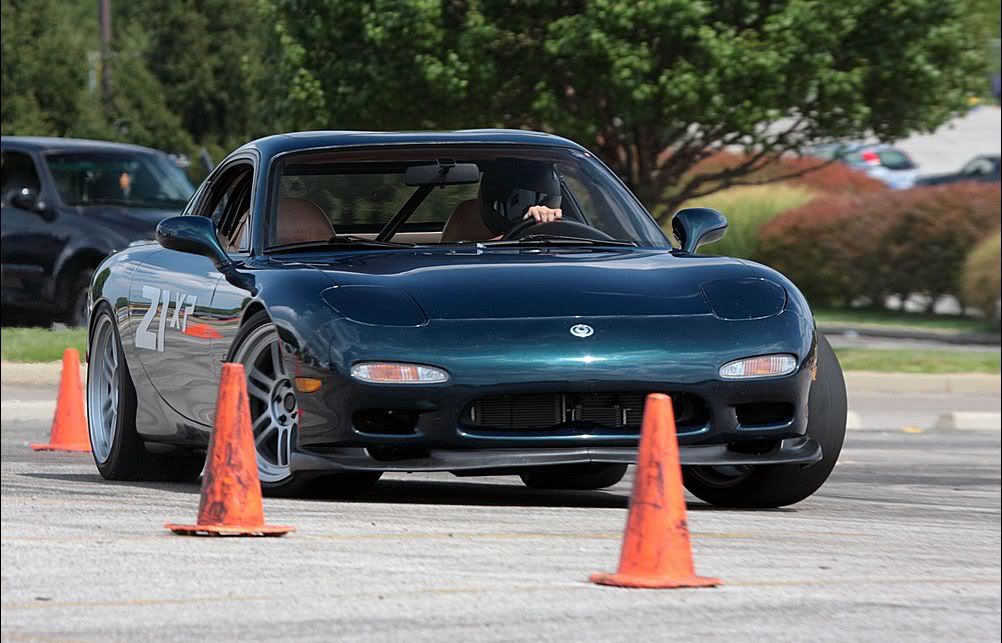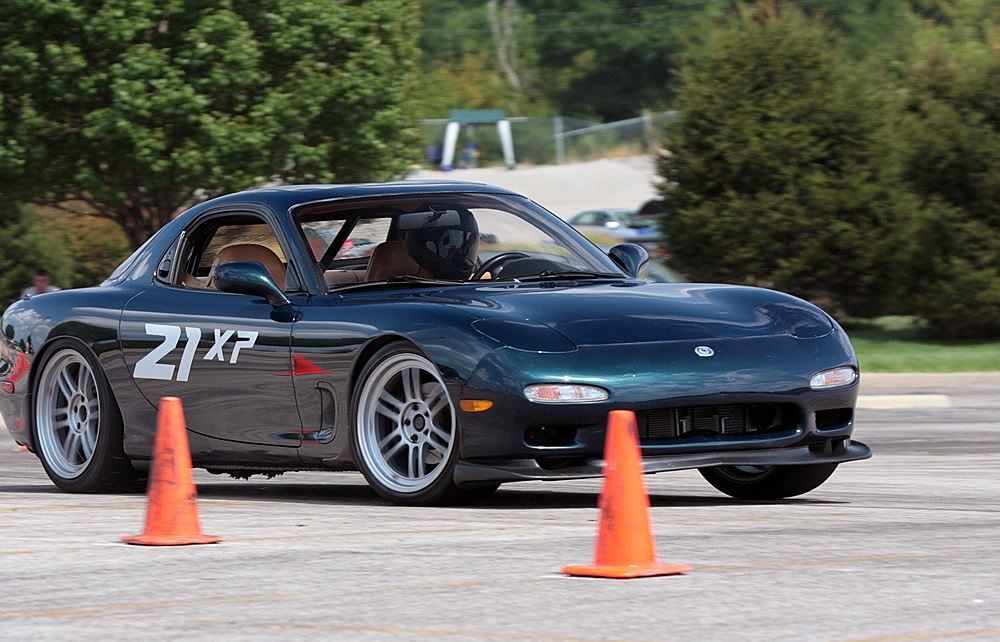 01-25-11, 06:50 PM
Original Gangster/Rotary!



Join Date: Mar 2001
Location: FL-->NJ/NYC again!
Posts: 29,999
Great shots, thanks for posting

What width and offset wheels in the back, and what's done to the fenders? thanks

01-25-11, 07:00 PM
Senior Member
Join Date: Jun 2003
Location: Cincinnati, OH
Posts: 327
Likes: 0
Received 0 Likes on 0 Posts
The front wheels are 18x9.5 +45.
The rear wheels are a custom job, I took a 18x10 +38, and welded in a 3/4" wide strip so now they're 18x10.75 +whateverThatComesOutTo.
Now, making them fit.
Full version:
https://www.rx7club.com/suspension-wheels-tires-brakes-20/fitting-315s-stock-body-fd-904367/
Abridged version:
- Rolled the lips flat
- Air hammered with a slightly rounded flat tappet piece, the metal upper liner, right near where it meets up with the fender lip. Since the tire is so close to the outside of the fender, and the metal inner fender rolled inward, the tire would hit that far before the rest of the tire would contact the metal liner. So in attempt to keep the shoulder of the tire off that location, I air hammered that area to stretch it, and raise it up and out of hte way. That was fairly successful. I gained ~1/4" more room in that area.
For fitting it on the inside:
- Moved lower shock mount inboard by ~0.75".
- Full offset control arms
- More hammering of the metal body on the forward, inner part of the metal. Looking at the drivers side, it would be on the body where the wheel would be at 9:00 oclock.
01-27-11, 07:57 AM
Senior Member
Join Date: Jun 2003
Location: Cincinnati, OH
Posts: 327
Likes: 0
Received 0 Likes on 0 Posts
I don't have an intercooler. My car is N/A, so the coolers you are seeing are:

1. Small powersteering cooler
2. Oil cooler
3. Radiator

The furry thing is header wrap that got torn up from going over a speed bump and damn near high centering the car on it. Haven't taken the time to re-wrap that part. I'd like to have it ceramic coated at some point so I can ditch the wrap.
Thread
Thread Starter
Forum
Replies
Last Post
3rd Generation Specific (1993-2002)