magazine that shows re amemiya uderbody aero works
04-10-08, 11:34 PM
Senior Member

Join Date: Apr 2003
Location: Seoul, Korea
Posts: 375
Likes: 0
Received 0 Likes on 0 Posts
magazine that shows re amemiya uderbody aero works
---
i picked up an issue of option 2 and it has a big section on aero testing. one of the cars they tested was re-amemiya's fd. they tested it without the front undersweep and rear diffuser and with. the test was on fuji speedway and the car was 1.521 seconds faster with the underbody aero. i wish they also tested it with just the diffuser and just the front undersweep.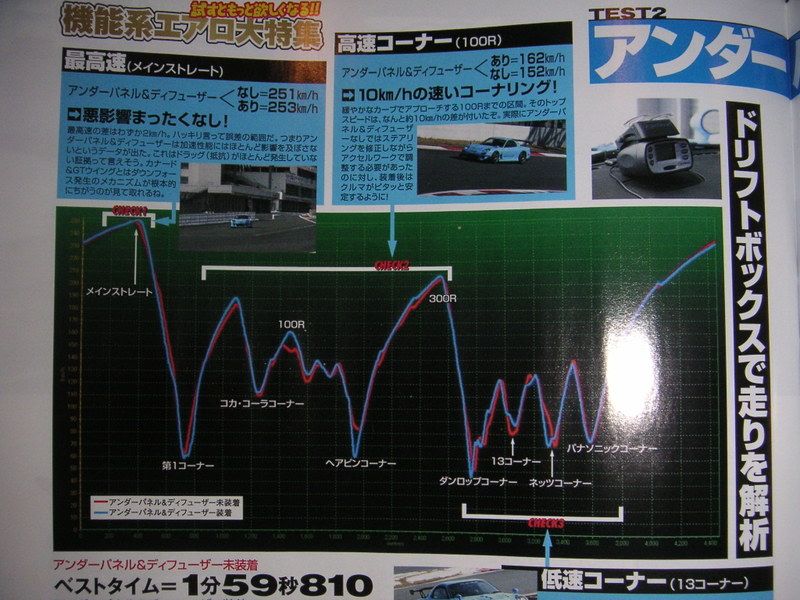 04-10-08, 11:41 PM
Lives on the Forum
Join Date: Sep 2003
Location: BC, Canada
Posts: 5,707
Likes: 0
I'd guess that it's more due to the front section, as splitters and front undertrays/diffusers are a lot less picky about the rest of the setup than a rear diffuser is, and without it they were probably suffering from understeer.

You're probably also seeing the effects of a non-optimized setup without, vs. the optimized setup with.
04-11-08, 10:28 AM
Lives on the Forum
Join Date: Sep 2003
Location: BC, Canada
Posts: 5,707
Likes: 0
Diffusers CAN be very helpful, as part of a whole underbody aero setup, but they're much more sensitive than a wing to setup changes such as rake, ride height, diffuser angle, underbody smoothness and so on. They're good at making high efficiency downforce, but on a reasonably stock RX-7, it won't be making much downforce at all due to the height, the lack of proper side skirts, underbody roughness and so on. A wing will give you much more downforce, but it'll come at the cost of more drag.
Go to the link at the bottom of the page and read the articles, they're quite helpful in understanding this stuff.
http://www.fatcatmotorsports.com/chassis.htm
04-11-08, 06:09 PM
10 lb. boost, 5lb. bag
Join Date: Mar 2001
Location: New York, NY
Posts: 1,076
Likes: 0
Received 0 Likes on 0 Posts
On the chart, is the blue trace with the aero installed and the red trace without? My Japanese is rusty as all hell, but it seems faster from looking at the chart so I figure that's correct. What's interesting is that there's some areas of the chart where the equipped car comes out of the corner slower (maybe from overbraking due to increased DF making the brakes more effective than expected), but reaches a higher speed before the next deceleration. Starting slower and ending faster can only mean that overall drag has been reduced.

Also, remember that a stock car wants to lift at speed, because the shape of the body is winglike. Lift also causes drag, so potentially getting lift back towards zero by cleaning up the aerodynamics will reduce drag until you start producing actual DF. (not from adding a wing, which directly produces DF and drag at the same time)

Am I making sense? It's been a long day.