Fuel cells - little help
11-30-10, 01:34 PM
Do a barrel roll!
Join Date: Oct 2001
Location: Lower Burrell, PA
Posts: 7,529
Likes: 0
Fuel cells - little help
---
Hey guys. Lately Ive been thinking about putting a fuel cell into my FD. Its something Ive thought about for a while, but sort of put off because my car is primarily going to be a street car, but I do plan on tracking it as much as I can and just dont want to deal with fuel starvation issues, or having to keep like 15gallons of fuel in my car at all times. I know there are some "band aid" solutions for the stock tank, but Id rather just do it right and get it over with and not have to worry. I admittingly dont know very much about fuel cells, so I thought Id post looking for advice. If I do go through with this, Id like to get a good sized one (~10 gallons or so). Looking around places like summit, I see a ton of different styles and materials. Which would be best for my needs, stainless or the composite ones? I take it there is a difference between one for drag and track racing applications? Has anyone installed the cell and ran the fill tube to the factory gas lid location? Anyone have any pictures of one installed in a "street" FD? SOrry for all the questions at once, but any help or direction would be appreciated.
11-30-10, 03:47 PM
I just put a 25 gallon Fuel Safe cell in my track FD. I had it built with the internal sump and 044 Bosch fuel pump. I suggest that you are seated when you discuss pricing. For me the internal sump and fuel pump cost more than the fuel cell. I would seriously consider a larger tank than ten gallons. Running ~330rwhp I use about 10-12 gallons of fuel in 30 minutes.

Guy
11-30-10, 06:18 PM
Sua Sponte
Join Date: Aug 2001
Location: Savannah
Posts: 3,122
Likes: 0
I have a 22 gallon ATL fuel cell in my track FD. Mine is set up with an internal surge tank that ATL also makes. The fuel pump that came with it is TINY! It's rated at 600hp I believe(have to look) and I haven't had an issue with it on track.
I will say that if this is primarily a street car, keep the stock gas tank. With the hyperion cover, you can run it to around a 1/4 of a tank if you are that concerned about it. I wouldn't do that either though(run it low on fuel... it's just not necessary). Before I had the cell, I always just topped mine off after each session or every couple of sessions. It's really not a big deal. Especially since you are talking about $2000 or so for a problem that only occurs when you are low on gas.
My car is 100% a track car, but here is my fuel cell installed in my FD: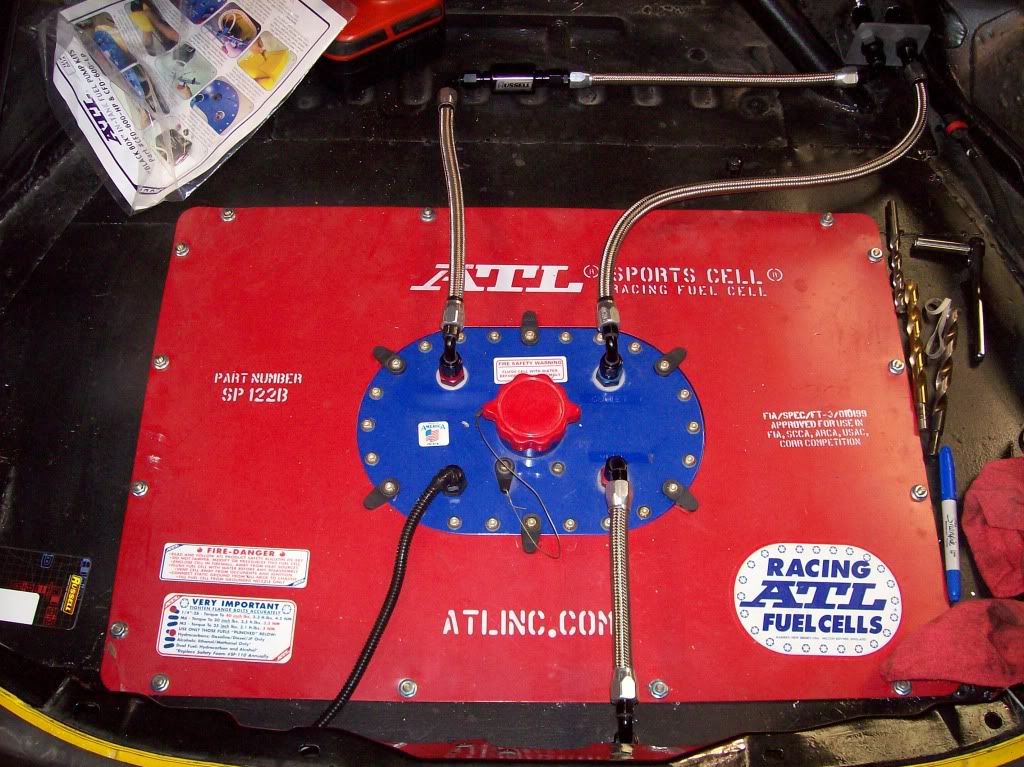 Brent
11-30-10, 08:38 PM
Full Member
Join Date: Feb 2005
Location: CA
Posts: 88
Likes: 0
Received 0 Likes on 0 Posts
Mine looks very similar to that and is 15 gallons. I even got mine with build in fuel level sender. But....

With the sender, pump, baffle, etc... expect to pay about $1200. Then you need to fab it in and plumb it. I would think $2500-3000 is not out of the question for one installed.
Thread
Thread Starter
Forum
Replies
Last Post
3rd Generation Specific (1993-2002)
Adaptronic Engine Mgmt - AUS