How To: Check Engine Light/Knock Light/Warning Light
07-03-12, 07:13 AM
Senior Member

Join Date: Nov 2007
Location: Australia
Posts: 343
Liked 0 Times in 0 Posts
How To: Check Engine Light/Knock Light/Warning Light
---
Here is a basic rundown of how to use a check engine light as a regular CEL (for diplaying fault codes etc), as well as a multiple warning light. This means it will illuminate when your ecu is throwing a fault code as well as up to six other (potentially harmful) engine conditions.
The first step in doing this is to pick which output you wish to use as your indicator light (I have used Auxiliary output 6):
Firstly you need to setup your chosen auxiliary output:
1. Set function as "GP Output" .
2. Set switch logic to "Cond 1 or 2 or 3".
3. Set all sw conditions as "Aux virtual value1 = ON".
4. Set Aux virtual value1 = ON to "1", "2" & "3" as shown below:
(Note: I have set the driver type to "low" as I am using the stock light in my JDM FD that has power fed from the IGN switch)
What this means is that the "GP Output" (whichever output your light is connected to) will function (illuminate) whenever one of the three virtual auxiliary outputs are operational. Now you need to set up the three virtual auxiliaries. One of these will need to be set as a "check engine light" I used virtual aux 3. This is very simple just a matter of selecting virtual aux x and changing its function to "CE Light" as shown below:
Next you must set the other two virtual aux outputs as "GP Output" with the sw logic of "Cond 1 or 2 or 3". What this dictates is that any three of these conditions being met will activate the virtual aux out, which will then cause the auxiliary output that you connected your CEL to, to activate. Now its simply a matter of selecting which conditions you wish to have activate your CEL. I set mine to activate with the following:
1. High Knock Level (Knock level over xx)
2. High EGT front rotor (front EGT over 1150°C)
3. High EGT rear rotor (rear EGT over 1150°C)
4. High coolant temp (coolant over 105°C)
5. Low oil pressure (oil pressure under 200kPa)
6. High oil temp (oil temp over 115°C)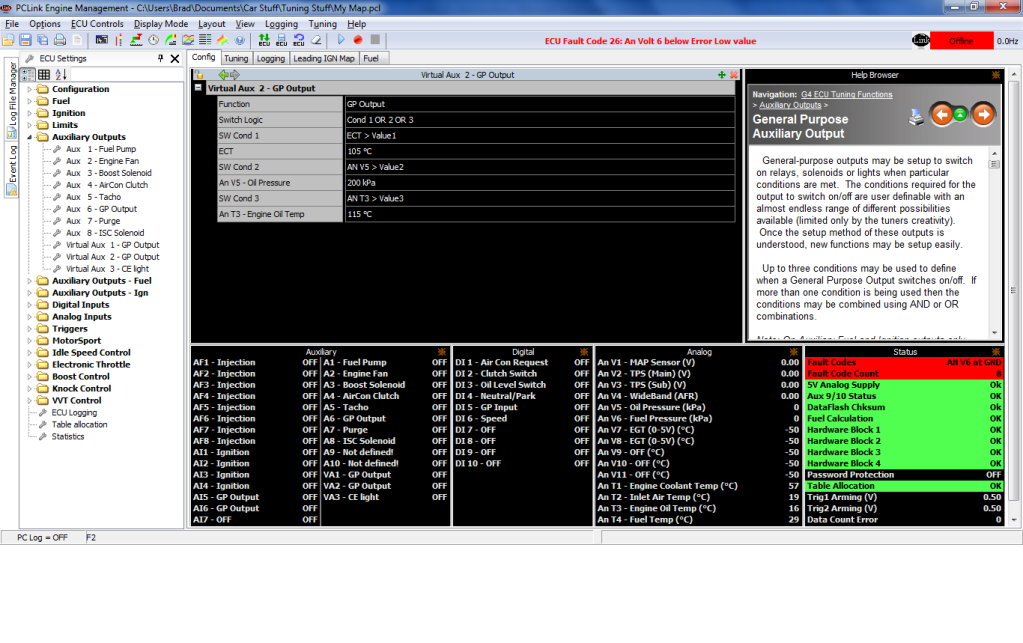 This has been tested by scott at LINK technical support and he has verified that this setup works.
Enjoy,
Brad.
Thread
Thread Starter
Forum
Replies
Last Post
2nd Generation Specific (1986-1992)
2nd Generation Specific (1986-1992)
3rd Generation Specific (1993-2002)
New Member RX-7 Technical