S4.5 TII Build (Picture Heavy)
11-10-18, 08:31 AM
Full Member

S4.5 TII Build (Picture Heavy)
---
Seeing the prices of the TII slowly increase has been a love/hate dilemma for me. On one hand, the value is increasing, on the other it was getting further and further out of my reach for a project. After having the motor in my S4 n/a lose compression, I parked her in the driveway and began getting serious about finding a good FC3S. I figured if I'm going to need to rebuild the car anyway, I should start with the one I really want. I searched the forums and picked up my first TII from a fellow member (thank you K!NCH). My n/a will be rebuilt next season as a daily driver, so no worries there. But for now, my focus is my "new to me" FC.
The car started life as a white S4 n/a. At the time of me buying the car, it had an s5 body panel conversion, s5 tail lights, TII hood, and a TII motor swap.
Here's the for sale ad I read when I decided this was the one:
1988 Mazda Rx7 Turbo
FOR SALE: 1988 Mazda Rx-7. Asking: $6500. Located in Cincinnati, OH.
Engine:
Dynoed at 265hp/295tq with the stock turbo. Currently has a BNR Stage 2.
13B S5 TII short block built by GarageLife. Under 1000 miles.
Racing Beat high pressure oil regulator
New Oil Pump
1000cc Injectors (primary and secondary)
FFE Fuel Rail
Aeromotive FPR
Mk4 Supra Fuel Pump
Like new BNR Stage 2 Turbo
3" Racing Beat Downpipe
3" Racing Beat Pre-Silencer
Apexi N1 cat-back (modified to be 3" all the way)
OEM Top Mount Intercooler
Haltech Sprint RE installed and tuned by Defined Autoworks (tuned for S5 turbo not BNR)
SS lines throughout
Drivetrain:
ACT Street/Strip Clutch
Racing Beat Flywheel
TII Trans
TII Driveshaft
TII Axles
TII Differential (modified or aftermarket, not sure)
Suspension
Fortune Auto 500 coilovers w/ SWIFT springs (8k front, 6k rear)
SuperNow Tie Rod Ends
Eyecandy Extended Tie Rods
Part Shop Max Rear Toe Arms
AWR Individual Rear Camber Adjusters
SuperNow Rear Camber Center Link
Pinion Snubber
HAWK HP+ Brake Pads
SS Brake lines where possible
Sportmaxx/XXR 009s (discontinued) 17x8 +35
225/45/17 Kumho Ecsta V720s
Chassis:
82,XXX miles on the body
Rear quarter panel was damaged but professionally fixed
Frame has never had any issues.
Garage kept as much as possible.
S5 conversion body conversion
TII hood
TII side skirts (mostly removed, but a full set will be included)
Moonroof motor does not work, can use manual crank.
Interior:
Blue S4 interior
Decent shape (dash is not cracked, some vents are missing, carpet is ok)
Nardi Gara Steering Wheel
Alpine head unit
Innovative AFR Gauge
Prosport Boost Gauge
Prosport Oil Pressure Gauge
Prosport Water Temp Gauge
Greddy Profec II Boost Controller
Retro Spec Logicon Three Gauge Pod (not installed)
BRIDE seat is not included, will be replaced with OEM drivers seat
Viper alarm system
Aftermarket power locks
Aftermarket power windows
The Bad:
Car smokes (blue) under throttle, I believe it's an oil control ring not an apex seal or low compression issue. Car starts, idles, revs, builds boost and drives just fine. Video can be provided for anyone interested.
Needs tuned adjusted for the new turbo.
Due to these issues towing/trailering the car is recommended.
Original ad link:
https://www.rx7club.com/2nd-generati...turbo-1124643/
---
Last edited by jjandros; 11-10-18 at

09:15 AM

.
11-10-18, 09:10 AM
Full Member

---
I had the car picked up on a flat bed in Ohio and delivered to me in Virginia in May of 2018. Upon delivery I gave her a bath, changed the tune on the Haltech Sprint RE using some base maps on the forum as reference, and did a quick tune up. For the next 2 months, I commuted to work (an hour each way) in the FC to see what I liked and what I wanted to change. It wasn't long after owning the car that I realized the car was burning about a quart of oil every 500 miles even though the OMP had been deleted and the car was being premixed.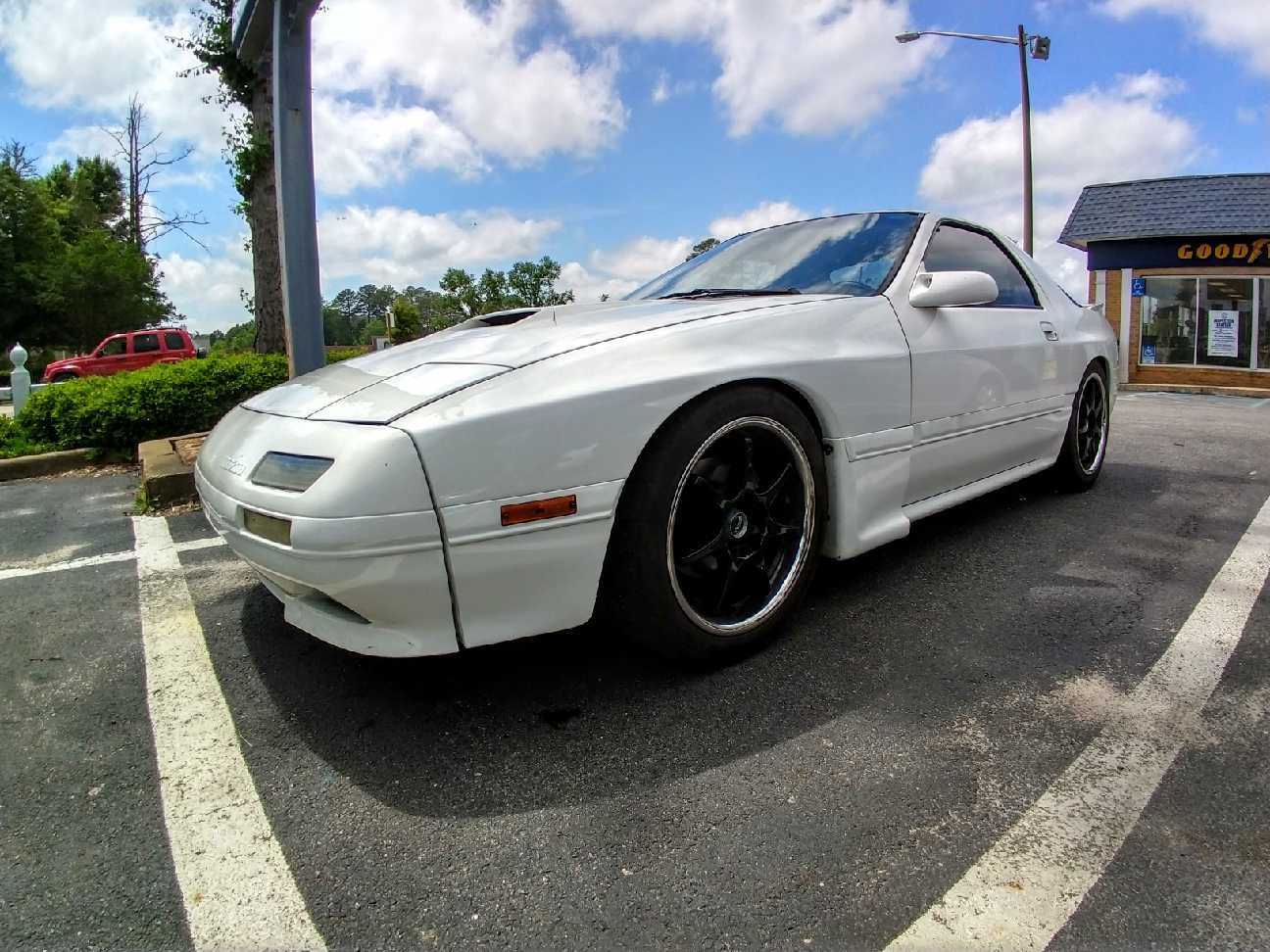 ---
Last edited by jjandros; 11-10-18 at

10:01 AM

.
11-10-18, 09:57 AM
Full Member

---
Eventually I decided that I wanted to update the interior. I went ahead and swapped my grey interior from my n/a into the car along with some new goodies:
BRIDE (B-GREO) BRIX seat
LRB speed door panels covered in BRIDE fabric
LRB speed windshield vents painted black
Custom floor mats made by JasonS (one of the forum members)
Cheap rear strut brace by Ultra Racing
Parking brake button from Banzai Racing
Delrin parking brake handle from Level Zero Motorsportshttp://amzon.com/
Leather shifter and parking brake boots from RedlineGoods
Double DIN touch screen radio
While stripping the interior I cleaned up a lot of the ECU, gauges, radio, power window, and security system wiring and relocated the logicon to the glove box. I also found that the map lights and sunroof were inoperable as the wiring to them had been cut out at some earlier part in its life. I went ahead and tested the lights and motor with a PowerProbe and reran the wiring to the factory locations.
A few days later the battery was completely dead after a long day of work. Once I got the car home I found out why the wiring had been cut out, there was a parasitic draw from the sunroof circuit. I removed the interior, traced out the issue, replaced the wiring, and put everything together before having to go back to work in the morning.
---
Last edited by jjandros; 11-10-18 at

09:59 AM

.
11-10-18, 10:12 AM
Full Member

---
After driving the car for a few months I decided to do a little bit of maintenance before really diving into the project. To start, I had the alignment redone and brought the camber just to the outside of factory specs while keeping toe and caster in the middle of factory spec. I also went ahead and replaced the air filter and dropped in a Koyo radiator and Samco hoses at this time. At this point I had fair idea of what I wanted to do with the car and knew that it would be taken apart soon.
11-10-18, 10:31 AM
Full Member

---
In early September 2018, hurricane Florence was expected to hit Virginia hard. With the car already having oil issues and not wanting to add flooding problems to it I decided now was the time to pull the motor. I pulled the motor and broke it down for inspection before the hurricane (which turned out to just be some rain and not the CAT IV monster that was predicted). For the most part the motor looked good. Everything except the questionable "port job."
---
Last edited by jjandros; 11-10-18 at

10:48 AM

.
11-10-18, 10:55 AM
Full Member

---
My power goals for this motor build is going to be around 400 hp so i decided to begin with a large street port
For anyone interested I began a thread about the porting on the motor called "Custom Porting Templates" which can be found here:
https://www.rx7club.com/2nd-gen-gene...lates-1129971/
I picked up some block off plates, a Greddy compression tube, Glowshift oil plate adapter, and rebuild kit from Atkins Rotary in preparation for the assembly. I also grabbed up a TO4b turbo built by BNR motorsports, an HKS 40mm wastegate, and HKS cast manifold along with some other goodies from dguy here on the forum. Thanks again bud!
It was around late September 2018 when I began cleaning, painting, and porting the motor and engine parts. During the porting, I also decided to perform the throttle body modification using FC3SPro's how-to guide.
11-10-18, 11:22 AM
Full Member

---
While waiting on some finishing parts to come into so that I could assemble the motor I got busy on some things that didn't cost much to do; modified the power steering bracket, washed the car, cleaned the engine bay, and tinted the lenses using VVivid smoke tint.
I also went ahead and picked up a few more odds and ends from a couple forum members:
a Corsport FMIC thanks to toplessFC3Sman
and a pair of EVO-R sleek headlights thanks to RockLobster
I decided to go ahead and tint the lenses on the EVO-R lights to match the rest of the car as well as help to protect the lenses from road debris. To finish off the look I ordered a demon-eye kit to add to the projector lenses and picked up a pair of replacement aftermarket FTP lenses from 13betc on ebay (i tinted these for protection as well).
11-10-18, 11:45 AM
Full Member

---
Once the parts I was waiting on came in (including a set of poly motor mounts and aPexi filter from Banzai Racing) motor assembly could begin. I went ahead and swapped out the stock pulleys for a set of gilmer pulleys as well. After a pretty grueling few nights, the motor had been clearanced, assembled, and set back in the car. Currently I'm waiting on a few package so that I can start mocking up the exhaust and intercooler piping. I'm also trying to decide if I should install the S5 intake or order up and adapter and use the S6 UIM and throttle body.
---
Last edited by jjandros; 11-10-18 at

11:47 AM

.
Thread
Thread Starter
Forum
Replies
Last Post
2nd Generation Specific (1986-1992)
3rd Generation Specific (1993-2002)
1st Generation Specific (1979-1985)
2nd Generation Specific (1986-1992)
2nd Generation Specific (1986-1992)