What size tires for 15x8 rotas
11-29-11, 08:43 AM
Full Member
Join Date: Mar 2008
Location: Campbell River, BC
Posts: 79
Likes: 0
Liked 0 Times in 0 Posts
What size tires for 15x8 rotas
---
I will be getting a set of 15x8 rotas sometime next week. I have lowered my 84 g with eibach springs. I'm wondering if I could mount a 205/50/15 on them or if I should move up to a 215 or a 225. I'd think a 225 might be too wide for steering tires though
11-29-11, 11:40 AM
Environmentally-Hostile
Join Date: Sep 2005
Location: Ennis/Arlington Texas
Posts: 1,656
Likes: 0
Liked 0 Times in 0 Posts
I'm running 205/50/15 on my car (6.5" +19 offset wheels) and it looks perrrfect. I think 225 is too wide for sure, and 215 might be pushing it.
Here is a shitty picture of my car, I'll need to take some better ones of my "new" wheels: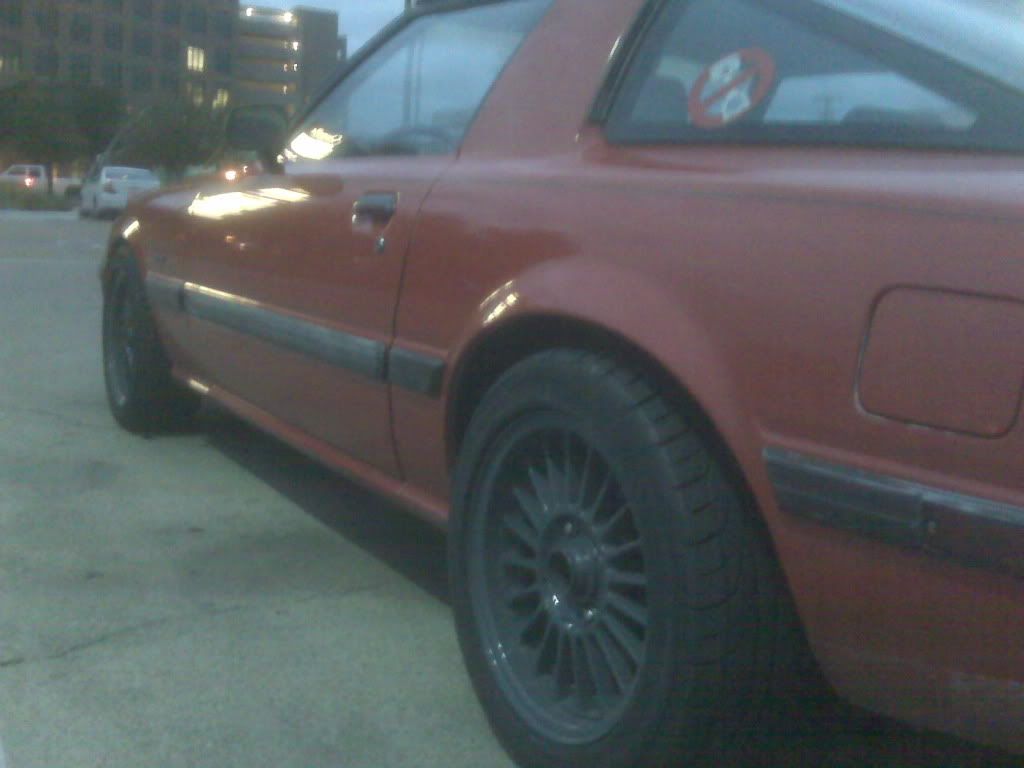 With the +19 offset and 205's, the tires extend past the fender about 1/16"-1/8" which I think looks awesome. I'd like the drop the rear another 1/2" as well. The fender gap is just a bit too much.
These cars just don't need a lot of tire to look aggressive.
11-29-11, 12:06 PM
without camber plates 205 is probably pushing it....

pic is 225/45/15's on 15x7 7 wheels, the 15x8 rota's should stick out about the same. i don't usually run that much camber, thats the sevenstock alignment right there. \

oh and depending on the tire 225 on a 15x8 should be really good
Thread
Thread Starter
Forum
Replies
Last Post
1st Generation Specific (1979-1985)
Suspension/Wheels/Tires/Brakes